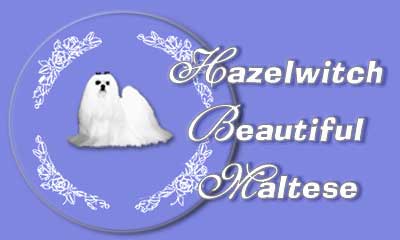 Bella
Registered:
Champion Hazelwitch Prima Belrina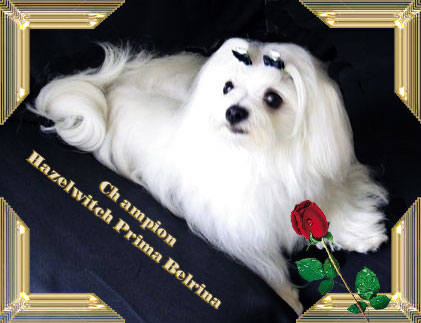 Bella received her championship when she was only 10 months old
but was officially granted her Championship Title
at 13 months old with 131 points.
Bella was the youngest Maltese entrant at the Royal Show
this year 2004 & got first in Junior bitch, then Challenge bitch
& finally got Runner up to Best of Breed at the Royal Show this year.

Owned by Pauline Parkes of Perth.
This little girl is starting her show career
and is looking very promising.
Come back often to follow her progress.
Half way to Championship at nearly nine months

Bella was in a show again last night 27th March
and got another Challenge & Best of Breed again,
so
now she is half way to her championship & is not quite 9 months old.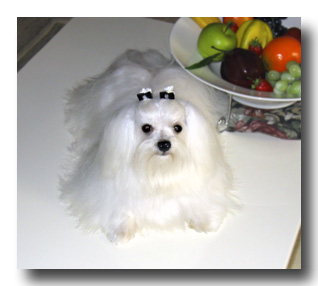 Update: March 16th 2004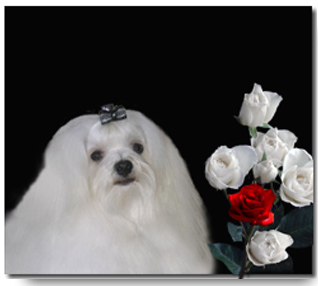 Bella was born on the 2 July 2003 & has so far received
6 Challenges,
1runner up to best in breed
1 Best in Breed.
This I understand is quite an
achievement at Bella's young age, as at only just 8 months of age she is
already over a third of a way to her championship.
Puppies can't receive any points until they reach 6 months of age, so in the 2
months Bella has done extremely well.

UPDATE: 21 February 2004
Bella got a Challenge &
runner up to best in breed.